Welcome
The "Bradworthy book" contains a recent history of Bradworthy, a small vibrant (mostly caused by the thrumming of those damnable wind-turbines) rural community in the far west of Devon, England.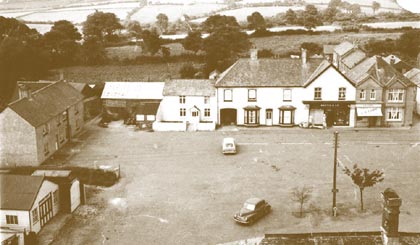 The south end of the Square taken from the church tower in the late 1950's. Across the Square are Martin's and Cory's. At the bottom left is the Assembly Room, which was demolished in 1975.
The website has been created by Phil Mayhall, who had 5 minutes to spare one afternoon.
The content is based on a book, "Bradworthy in the twentieth century", which was originally published in hardback in December 2001. It was written by Cecil Collacott, Tom Cann, Alan Cann, Angela Yeo and Phil Mayhall.
Cecil Collacott, Tom Cann, Alan Cann and Angela Yeo are all now sadly deceased.
Additional material has been added that was left out of the original book (mainly photos for space reasons). If you have any additional photos, information, corrections or contributions please contact me.
Every photograph has a larger, high-res blow-up; click on the photograph to display.
---
The book is out of print (and out of stock), however it is available for download.
See the Download Page for more info