Village services
Bradworthy has built up an admirable range of services throughout this century.
Some of these, such as electricity, were initially developed by enterprising local businessmen.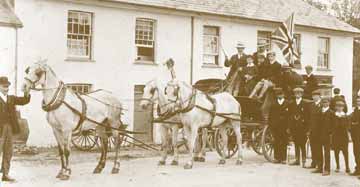 An outing by coach and horses outside the Bradworthy Inn at the turn of the century
Sadly, in the interests of efficiency, some of these services have either disappeared or are under threat.
At one time Bradworthy had a visiting dentist once a week (Mr. Whateley, Mr. Deubler, and Mr. Satchwell).
On auction days three banks would set up shop in the village (Barclays, National Provincial in Wade's Hotel, and Lloyds in Balsdon's Store).
Bradworthy or Milton Damerel? - Further claims in Key Settlement controversy
In a letter to the Editor, Mr. D.W. Slee, Clerk to Bradworthy Parish Council, writes from Higher Terrace, Bradworthy to say:

Dear Sir, - With reference to the report published in your issue of 26th June on the subject of Milton Damerel or Bradworthy as a key settlement, I am instructed by my council to answer Milton's case against Bradworthy with some unassailable facts, if you could kindly permit us space.

We all agree that Milton Damerel is partly on a main road, but once off that road, all you have are narrow by-roads.

As for Bradworthy being remote, we are quite close to the coast and seaside resorts, and have reasonably good roads to Bideford and Holsworthy. Social activity has been, and still is, great at Bradworthy.

The parish council is very active, Church and Chapels continue to flourish, our local football club had a very successful season winning four cups, the primary school is to have another classroom built, and a youth centre is in the offing. The BBC have paid us visits with sound and television. We have no wish to belittle Milton, but we feel that our friends at the enquiry were trying to put us in a back seat, as if we were of no account and Bradworthy was a dead community, which is far from the case.

For a key settlement, Bradworthy already has the basic qualifications, i.e. resident doctor and surgery; good social activity; mains water; mains electricity; and mains drainage.

May I give more qualifications for our claim to be made a key settlement, besides the ones listed above; new sewerage scheme and disposal plant; public conveniences; street lighting; three well equipped garages; two hauliers; children's swimming pool; resident veterinary surgeon; hotel and licensed house; cafe; two modern furnishing stores; bus shelter; draper's shop; three grocers shops with patent medicines; post office; men's and women's hairdressers; billiard room; two plumbing and engineering firms; iron monger and general merchandise; family butcher; agricultural merchant; auctioneers and valuation agent; monthly cattle and sheep and pig market; three milk vendors; young farmers' club; two builders.

Social activities include: Playing field with children's corner; Memorial institute, with billiards, snooker, table tennis and skittles; Youth club; tennis club; Football club (two teams); bingo weekly; Women's Institute, who are very active and presented the village with a bus shelter and have been running a meals on wheels service.

We have a modern hall, where dances and receptions are held very frequently, and the Church Hall where smaller functions are held. Bradworthy is also the possessor of a very fine square, practically the largest in Devon, where people can park their vehicles in comfort, without lights up to midnight.

Surely the businesses and amenities I have listed weigh very heavily against Milton's claims. As for being remote, nowadays nowhere is remote, only as much as you make it, and my Council feel that Bradworthy has, and will, live up to its name as the most progressive village in the West and will be made a key settlement.

Denis W. Slee (July 1965)
---